Charlene Fortsch's interest in prophecy began at a very early age in the environment of a Christian home. Ever since she first heard about those "unique" beasts in the seventh chapter of "Daniel," her curiosity was aroused to know what they represented. Over the years, she attended lectures and study classes, always searching for the application of Prophecy and how it fits her own generation. This search also included the New Testament "Book of Revelation." In the year 2000 she was introduced to the third Prophetic Book in this series — the "Song of Songs" (otherwise known as the "Song of Solomon"). As she began to study these three books together, the prophetic picture began to unfold. At the same time, she became acquainted with the Hermeneutic Rules and Principles of Prophetic Bible Study. Realizing that prophecy is an exact science like Mathematics, Physics and Chemistry, she realized that it must be studied with its own unique rules. Once the rules are understood they must be applied, carefully and consistently, in each vision. Studying prophecy in this manner brought to light the application of past and future prophetic events.
As Charlene learned, she began to share with many friends, printing out simple booklets with pictures and Scripture. She thought about writing a book on prophecy, to help others understand what she had been learning. When her friends and family heard of this desire, they encouraged her to write a book on prophecy in a way that would be simple enough for even a child to understand. Charlene invites you to join many others around the world in this fascinating study of Daniel's prophecies.
Daniel Updates:
Daniel Translations
There have been countless requests for various translations, especially in Spanish, French, Russian, German, Hungarian and Hebrew. The Spanish people are most anxious to have their own translation. (If anyone can assist with this project, please contact Prophecy Song.) Translations that are currently being worked on include:
Hindi: As of January 2010, the translation is at Daniel 11.
Hungarian: As of January 2010, the translation is beginning Daniel 7.
German: This translation is still in the beginning stages.
Daniel's Prophecies have traveled around the world
-- Besides a very large distribution in Canada and the USA (including Alaska and Hawaii), Daniel books are being read and studied in these countries: Australia, Belize, Bermuda, Denmark, El Salvador, England, France, Germany, India, Israel, Korea, New Zealand, Nicaragua, Philippines, Russia, South Africa, Thailand, Trinidad.
Many have contacted us asking to donate. We have now provided a donate button at the top for your convenience.


Erica Dissler was born and raised in beautiful British Columbia, Canada. Inspired by God's creation all around, she grew up with an appreciation for art. Mostly self-taught, Erica is currently residing in Kelowna, BC where she works as a full-time illustrator/free lance artist. "God has put within each of us the desire to create. We get to choose how we use this desire." Erica hopes her art inspires others to learn and grow in the Truth.



Type: Paperback (Soft cover)

Size: 10 1/2 x 8 1/4 - 416 pages - Full Color

ISBN: 097386320X

Cost: $59.99 CND -
Introductory Offer $49.99 CAD
S&H included for Canada and USA.

(International Orders: Contact prophesysong@gmail.com for S&H arrangements.)

Receive your Free Gift (Value $15.00) with each purchase of Daniel – a 2 hour DVD power point narrated by the author. This beautiful presentation provides an Overview of Daniel as a good introduction to the book.

Note: This DVD can be viewed on TV's using the NTSC system (in Canada and the USA) or on any computer. (DVDs for PAL or Secam are not available yet.)


Daniel Power Point Studies


Individual power point studies for TV viewing will soon be available.

Following the same format as the "Overview of Daniel" DVD, detailed studies will enhance the understanding of Daniel's visions in an appealing format. Availability will be announced.


Purchase DANIEL online via Paypal

| | | |
| --- | --- | --- |
| 2. International Orders: | | Contact prophesysong@gmail.com for S&H arrangements |
Extra study materials and research materials are included with each order as well as a beautiful Power Point presentation for the book that will give the reader an exceptional start on their study. The Power Point presentation is completely narrated, and will run much like a DVD video.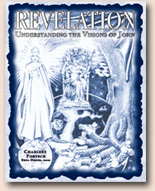 Please monitor website for release date of Revelation. It will be announced in advance.
2008-2009: Charlene had been concentrating on preparing the Daniel Power Point Series as a complement to the Daniel book. This will be excellent study material while waiting for the Revelation book to be published. The DVDs will follow the same format and style as the Daniel book. Watch website for updates and availability.
Oct 2009: Revelation manuscript re-opened.
Jan 2010: Revelation 1-2 completed.
Send questions and comments to: prophesysong@gmail.com

Customers who have an interest in Daniel's prophecies will also be interested in this companion title "Codeword Barbelon."
CODEWORD BARBÊLÔN is a book of stunning geopolitical revelations. It presents an array of facts that reveal a daring but subtle plan for seizing of global power—a compelling portrait of the future, and a most extraordinary account of international power and intrigue. This information dovetails nicely with the prophecies found in Daniel 8. FIND OUT MORE >>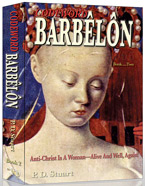 "Anti-Christ Is a Woman—Alive, and Well, Again!" - (Being Book 2 to Codeword Barbelon), by the indefatigable P.D. Stuart.
FASCISM HAS COME TO AMERICA! And it's wrapped in a flag and carrying a cross...
On July 7, 2009, Pope Benedict called for a new "world political authority" to manage the global economy and to regulate national economies…But, "Is the financial meltdown mere chance and accident or is there more to all of this than meets the eye."
"Why are world events spinning out of control"?"Why do the explanations we hear from our government officials seem so unreliable"? And "Why do the establishment news media leave us feeling like we have only heard part of the story"! "Was Thomas Watson right when he warned in 1910 that the evils of the credit and paper system, must, at no distant day, lead to a monetary crisis?" Why is this all happening now?
Here is a book that offers Evidences that even the PLAIN READER can understand, which the SCHOLAR will appreciate, and which the SKEPTIC cannot refute… a record of facts, well-attested, burning facts, which cannot fail to convince the incredulous, arouse the indifferent and lukewarm, and inspire every lover of truth and of his country…!
2 Peter 1:19
We have also a more sure word of prophecy;
whereunto ye do well that ye take heed,
as unto a light that shineth in a dark place,
until the day dawn, and the day star arise in your hearts.